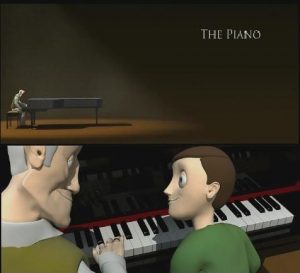 Class 3 Walcott have been exploring how music can shape a story.  We have wached Aidan Gibbons 'The Piano' and discussed how the phrases in the music changed when the piano player was thinking about the past.  The children then used the animation to write flashbacks for the piano player.  Following on from this we then took another piece of music 'Aquarium' by Saint Saens and again broke it down into phrases that the children could use to write a flashback from the perspective of the little boy.  They have used some of their own childhood memories as inspiration.
Please take a look at the childrens' efforts and enjoy.
Class 3's shared flashback                                                
Quietly sitting, staring out of his tiny window, Josh, who was only seven years old, began thinking about his interesting past. These thoughts were making him feel extremely emotional. His thoughts were momentarily interrupted by the arrival of his grandfather. Luckily, his grandfather is the most wonderful man in Josh's life. As Grandpa Mike left, Josh's thoughts retuned to the past. If only he could remember clearly that dreadful day, when the only other living things that Josh cared about were taken from him.
Unless he remembered the tragic event, Josh would remain upset and unable to celebrate the birth of his new baby brother. Coco had been the most loving dog, he was loyal to Josh and protected him to the end. It had been a dark and dismal night when Coco had started barking at something they couldn't see. He charged though the darkness, stopping only when he found the source of his disquiet. Josh and his mother had chased Coco, when all of a sudden a crack of thunder had dislodged a huge boulder. Coco had dragged Josh free, but couldn't save himself or Josh's mother. His baby brother was just two weeks old. Josh had refused to come out of his room since that disturbing night, he had lost his mother and his friend as the rock crashed to the ground in front of him.
A loud cry from the room below alerted Josh to the party that was taking place downstairs. He shook himself off and prepared to join the fun. Everyone was trying very hard to give his baby brother welcome he deserved. He didn't even have a name yet! Before long he found himself laughing with his grandfather and making exciting plans for the future. With the determination of an elephant, Josh vowed he would be the best brother ever and protect him from any harm. Between them he and his grandfather named the giggling bundle of joy Philip.
Josh was excitedly awaiting the arrival of the train. He was going on holiday with his grandfather and Philip. As soon as the party had ended, they had decided that they wanted to go to York and show Philip the amazing trains at the Museum. He might only be a couple of months old, but he would love it anyway. Five minutes later they were happily sitting on the train singing nursery rhymes. They were still laughing as the train pulled into York station.
As the happy threesome wandered along the halls of the museum, Josh saw a ghostly figure walk towards him. He recognised her immediately, it was his mother, she had been an amazingly beautiful woman, who adored her family and sacrificed everything for their happiness. Now she was here to check on her newborn son, the little giggling boy sitting happily in Josh's arms. Everything was going to be all right.